Building a successful product is a collaborative process requiring inspiration, intuition, user research, business savvy and technical know-how.  This is the first of two case studies in this series showing how product thinking can be applied to the development of a journalism product. This one was written for Knight Lab by Ryan Restivo, Newsday's project manager for mobile apps.
Newsday is the go-to source for news and information on Long Island. Not only do we have a website -- Newsday.com -- but we also have apps for iOS, Android, Kindle and Apple TV.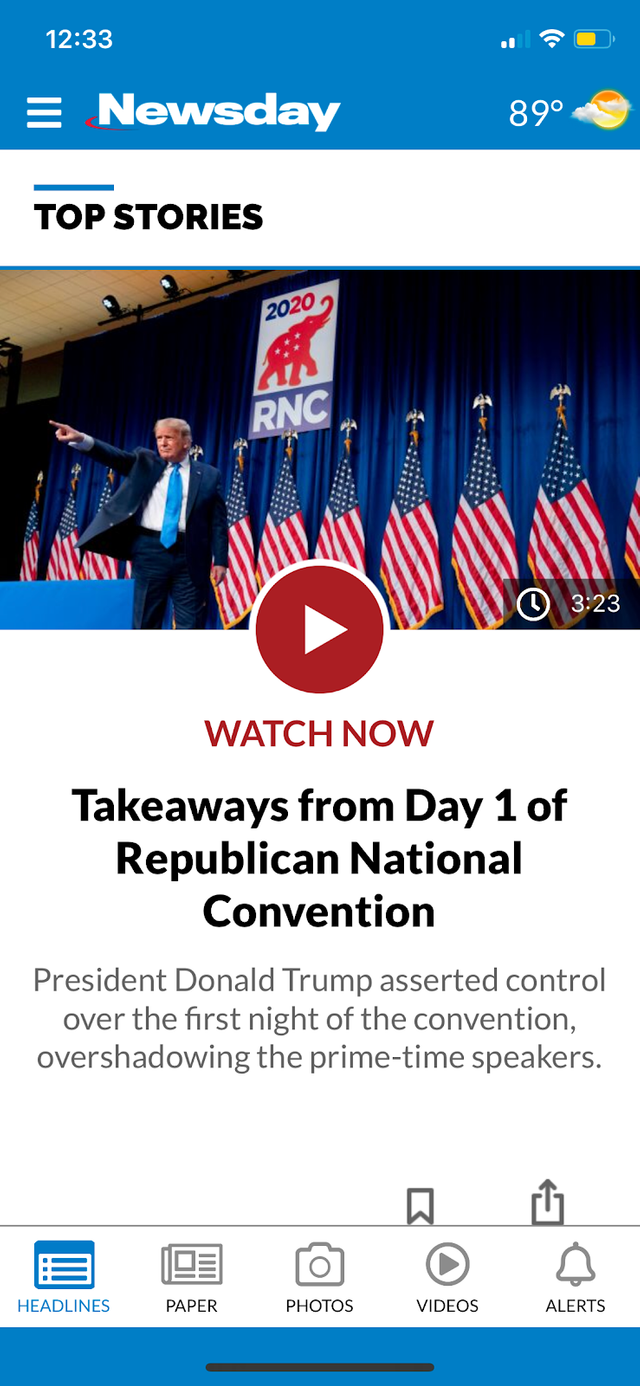 In October 2019, we launched a new version of our iOS app, with a cleaner design, brighter colors, labels and context for our users. As we were getting ready to launch, we started thinking about how our app could improve how we interact with our community.
A week before the launch of the new app, we had a "flare" or brainstorming session with people from all across the company. The question I asked them to think about: What could we do with notifications in the future? These were some of the ideas that were generated from a one-hour brainstorm:
Deals, discounts and freebies
Notifications for livestreams of our events
Notify home delivery subscribers when there's a special feature, such as a classic e-edition, food magazine or puzzle book
Location-based ideas: Town-focused alerts, school district snow days, pro and high school sports updates, local events, restaurant reviews
When an app update is available
Sweepstakes
Alerts based on reading preferences
Episode alerts - new podcasts, ongoing video series, etc.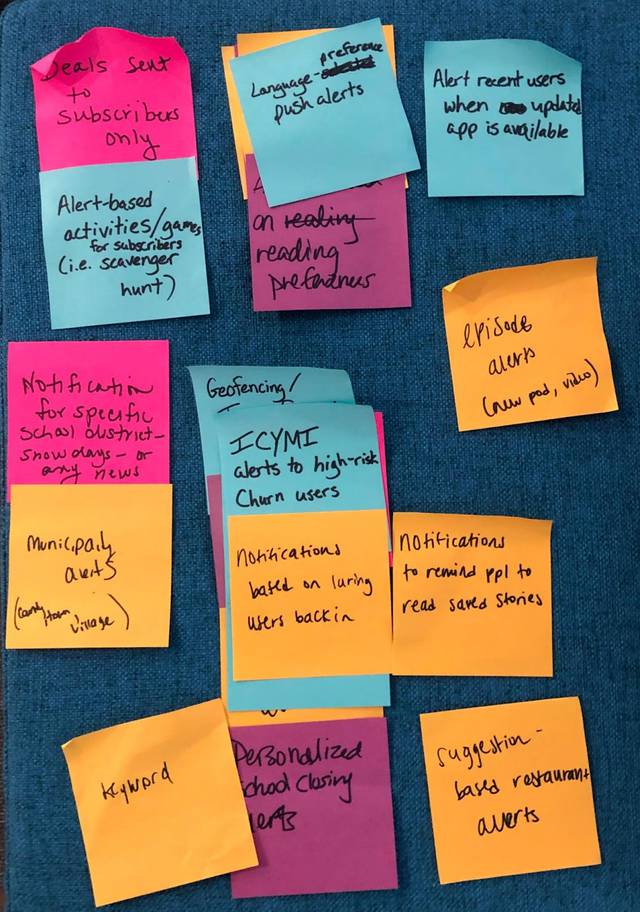 Later that week we took the ideas and assessed them based on what level of effort they would be. We used an approach similar to an Eisenhower Matrix, but based on  "Difficulty" (could we do this?) and "Value Add" (is this something as a company we are emphasizing?).  We taped them to a conference room wall.
As we assembled them, digital editor John Callegari and our senior product manager for newsletters, Anthony Bottan, quickly landed on this idea: Alerts based on the town you lived in. Eventually we recommended this simple concept, which we called "Local Alerts."
We pitched this idea to our leadership team, and it was met with an enthusiastic thumbs-up.
Insights from academic research
A couple weeks later, I was at the University of Illinois at the Mobile Me & You conference and saw Amy Schmitz Weiss from San Diego State University present some research she had done.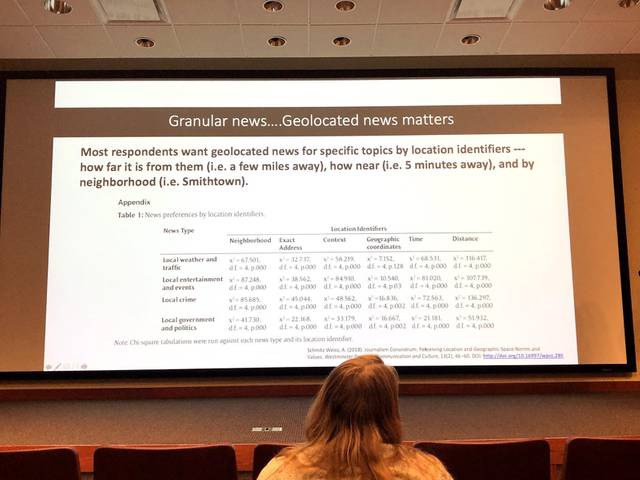 As I was already thinking about local news alerts, this slide spoke to me.
Schmitz Weiss had done research on location and news – a year before we at Newsday put the pieces together. She found that people want news customized to where they are.
Talking with Schmitz Weiss after the conference, I realized that we needed to understand what "community" means to people. We had planned to have our users select specific towns, but there are 256 of them in our region. That's a very long list to choose from. How could we create the easiest, simplest experience for our audience?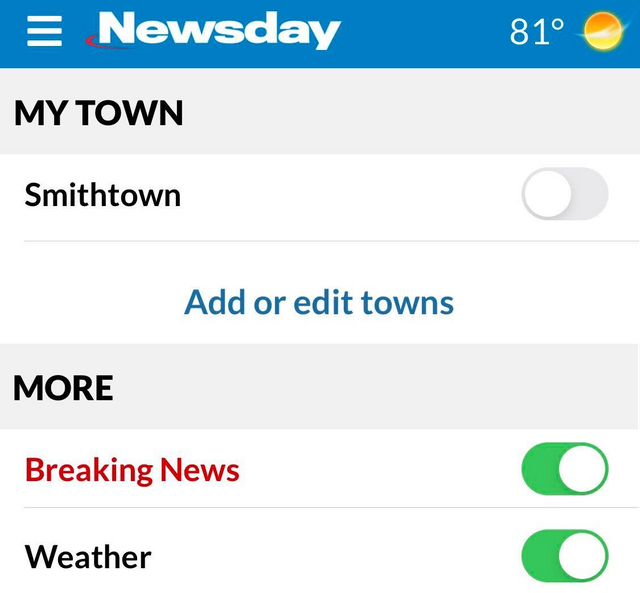 We figured out that our user database system could pass a user's city over to our app's alerts page.  So if someone had provided their city to us already, we could display it and allow them to quickly opt in to news alerts.
The problem: Our app already had a lot of options for alerts – users could sign up for up to 10 different alert types.  How was our new offering going to stand out?
We decided to redesign our Alerts page in the app to emphasize the value of our alerts.  We added a new message at the top of the page and decided to separate Local Alerts from our other alert categories.  We also placed the "My Town" alerts at the top of the page.

Then we had to tackle the problem of having 256 towns.  We analyzed our app's user data to figure out where app users live.  We also considered how often we publish stories about each community.  Using a web scraper and a spreadsheet, I examined the publication dates of the last five published stories for each town.
Doing this gave us a snapshot of how many stories a user could expect in their town coverage. We emphasized to our newsroom how important it was that they include these community tags when editing them in our production system.
We kept asking questions and fleshing out our ideas.  Questions led to more questions, and then even more questions.  Every question moved us forward to a better outcome.
Time to ask our users
During the first few weeks of the coronavirus lockdown, we set up time to talk to our users. We asked app users to take a survey and invited some to do a one-on-one interview.  There was plenty of interest.  When we opened up appointment times for a Friday afternoon, 15 interview slots were filled in two hours!
I ended up interviewing 19 users – mostly subscribers, but also some non-subscribers. Talking with our users on video conference during the early days of pandemic was very valuable; I got insights that I'm still chasing down to this day.
We learned that our users were interested in local news alerts.  Users who already got alerts said they would opt in.  Users who don't get alerts now – even those who don't like getting alerts on their phone – seemed open to trying them out.  When asked about stories they wanted to see, users identified almost exactly the same topics as Schmitz Weiss's research had found.
One user said she felt her town, on the east end of Long Island, does not get covered as much as other places. We decided to structure our alert zones to include other towns that are close to each other that aren't covered as frequently.
The technology challenges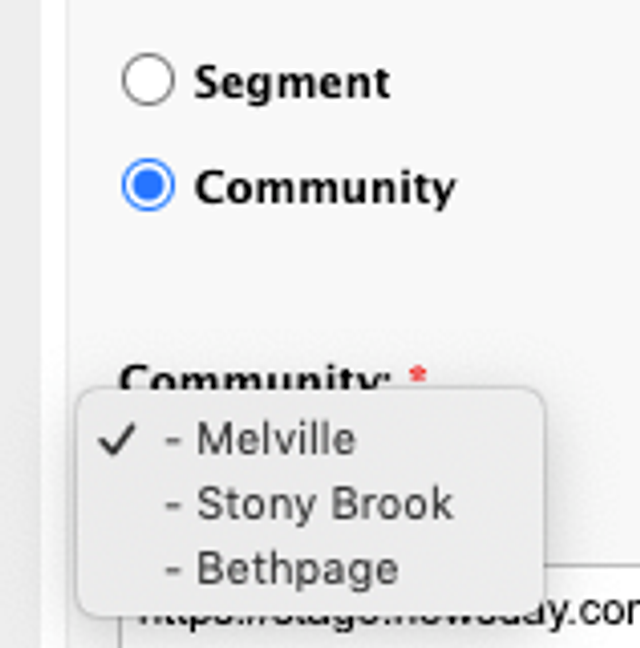 Once we figured out the user experience we wanted, our biggest technical issues were internal.
How would we collect the data we needed to make improvements to the product?  We needed to combine our internal publishing data with the analytics data from our technology partner for push alerts.  That meant combining the vendor's data (when the alert was sent, responses, sends) to our publication data (story link, text, title, segment)
With those connections built, we could use the story link to extract additional data as well as create flags in the database.  This means we can examine articles that were the subject of news alerts, and see – for instance – when the alert was sent out, to whom, and what the subject of the article was.
We also wanted to make it as easy as possible for our newsroom to mark up stories in our content management system  – and to separate the topic notifications and the local notifications. Our tech team found a way to separate the two lists on the same tab in the content management system to make this process easy.
As we went about building community segments, I realized it would be easier for our newsroom staff if we had a service they could reference to know what towns were included in which alert categories. So I wrote a simple Slack bot so the staff can look up the group of towns that each small town is part of.
What happens next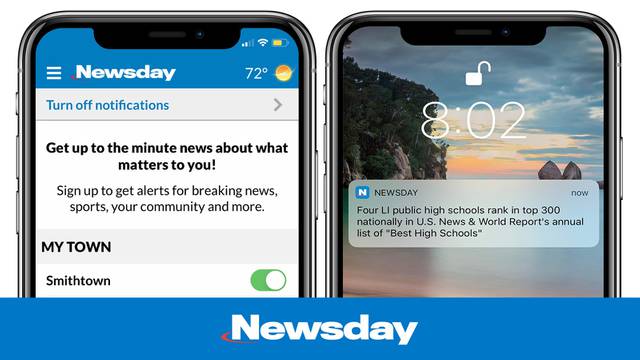 We launched the updated app on Sept. 2.  Though it took months to get here, it's just the beginning of what we can do.
Local news alerts don't generate any additional revenue for Newsday, but we know from previous research that people using our mobile app are more likely to stay as subscribers.  We hope local news alerts will increase engagement with the app and help us build subscriptions.
I am excited about how this new feature can inform us about our users' interests. We will know where our app users live and which towns matter to them the most.  Not only can that information be used to help inform how we serve our current users, but we can use the data to figure out who we aren't serving and seek ways to build engagement in those towns.
At Newsday, we want to create new contextual moments for our users. We think local alerts will help us better understand how to give users the most relevant information we have. We are a subscriber-driven business.  The more moments we can create like this, the more we will be valued by our audience.
Even though product releases always feel like the finish line, this one is only the start of our journey, and it is one we are excited about.
This article is one in a series exploring product thinking as an emerging discipline in journalism.