In an era where social media outpaces print newspapers in the U.S. by a whopping 4% (Pew Research Center, 2018), there is much to be said about the role of interactive media technology in minimizing this gap between technology and storytelling. How can publications, and the journalists within them, use interactive media technology to re-engage with this lost audience? And why might this shift towards digital storytelling, such as VR, be more valuable for journalism than ever thought before?
Below is a list of 9 VR experiences that every journalist should see to highlight the wonders that can be done when storytelling and VR align and underscore how VR creators have been able to re-engage with old audiences, draw in new ones, while still telling important stories.
Hunger in Los Angeles, created by immersive journalist Nonny de la Peña in 2012, is featured as the first VR experience in this list given that it was the first popularized example of journalistic storytelling using virtual reality at the Sundance Film Festival. The VR experience, whose, what we now call a headset was made merely of a set of goggles, a pair of headphones and a cellphone, was a recreation of a real-life scene, including the original audio, of what can happen when everyday people are denied food at a Los Angeles food bank. The short, animated VR film was revolutionary in the way that it was able to combine the digital with the real-life, while still maintaining the grit and urgency of a serious topic, such as the effect of hunger.
Traveling While Black (2019) is a VR documentary that chronicles the history of black travel, and the obstacles that came with it, throughout the 20th century. It draws inspiration from The Negro Motorist Green Book, a document that included a list of negro-safe hotels and restaurants for black road-trippers, and places viewers into the spaces that the black community relied on when they were excluded elsewhere due to racism. In terms of storytelling, it relays the emotions and feelings of black road-trippers through the inclusion of personal narration by the people who experienced such exclusion first hand, while the pain and strength in their voices surround the listener. Such personal storytelling places the viewer into the shoes of a black traveler during the 20th century, along with the feelings of exclusion, isolation, and fear that came with it.
Ghost Fleet VR (2019) is another VR documentary, which sheds light on the lucrative business of human trafficking within the Thai fishing industry. Filmed using a 360-degree video camera, the film is narrated by Tun Lin, a human trafficking survivor, who describes the conditions which he and other kidnapped fishermen were forced to endure. Conditions that caused many fishermen to lose their lives, thrown overboard when they did or left them badly injured, like Lin who lost four fingers during a boating accident. Although only eight minutes in length, the VR documentary communicates to the audience the horrors of this industry, by placing the viewer inside these horrid slave boats, alongside those that are suffering from it.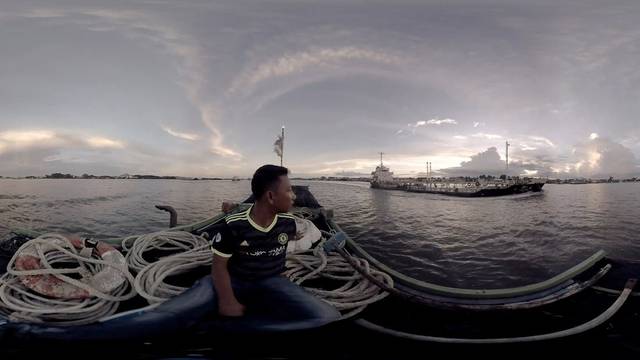 In 2018, the VR app Within released the series This is Climate Change with "Famine" as the first installment. The series aims to explore the implications of climate change by focusing on how these implications affect individual communities. Famine focuses on how climate change, and the food and water scarcity issues that it exacerbates, has led to the displacement and death of hundreds of thousands of Somalis, with infants, in particular, suffering the most. The VR experiences force the audience to experience the effects of climate change, by placing them within arms-reach of those that are impacted most. It is a compelling experience that places viewers into the suffering places that they'd otherwise only read about from the comfort of their own home.
A climate change VR documentary, with an educational twist, Greenland Melting is the embodiment of journalism using data visualization. Shot using 360-video, videogrammetry, computer-generated imagery, Greenland Melting can do what other VR climate change documentaries haven't, which is to provide viewers with a perspective of climate change by those who are experiencing its effects in another way: scientists. Given its data-driven narrative, Greenland Melting, and other VR documentaries like it, highlights a visual, yet educational way to tell important stories that written journalism has been unable to master.
Sanctuaries of Silence is the purest form of audio journalism. Filmed in 360 video, the VR film features, and is narrated by, Gordon Hempton as he records the sounds of Olympic National Park, one of the quietest places in North America. The film can be described as an elevated podcast, where the viewer is literally surrounded by nature, both visually and audibly. For audio journalists, VR can be a more immersive way of communicating sounds, which this Sanctuaries of Silence has done almost perfectly.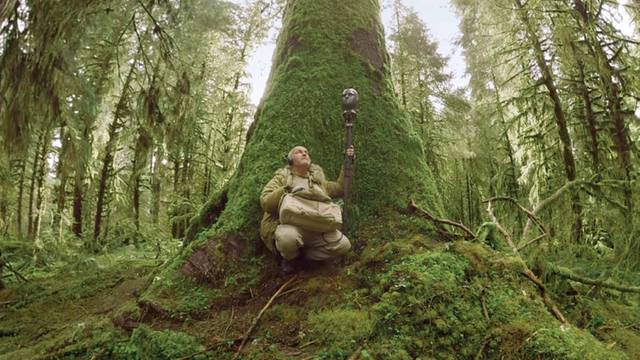 Zero Days VR (2017) is a 21-minute documentary that tells the story of Stuxnet, a computer virus believed to have been developed by the United States and Israel and designed to stifle Iran's ability to create weapons-grade uranium. This VR experience is different from the others mentioned in this list in that it is completely animated, aside from the included political archival footage. However, to the audience's delight, this animated nature makes the Stuxnet story even more compelling as they travel through the imaginary world of malware. In this way, Zero Days VR can do the same important, almost eerie, investigative journalism that print audiences love, but using VR animation.
Waves of Grace is a short VR film that centers around the life of Decontee Davis, a survivor of the 2014 Ebola outbreak in Liberia. The VR experience places viewers right in the heart of the most affected communities, with a candidness that allows the victims to tell the stories without the exploitation that can sometimes come with traditional journalism. In this way, the only thing standing between the viewer, Davis and the people of Liberia is the 360-degree camera. The hands-off approach with which the Within team approached this story should set an example for all storytellers everywhere.
National Geographic Explore VR earns the last spot on this compelling list due, in part, to its breathtaking imagery of the globe's most picturesque landscapes, but also because of the interactive nature of this experience, which requires the participation of the player, unlike the other experiences on this list. In National Geographic Explore VR the audience can kayak in Antarctica with Penguins and go on photo missions in Machu Picchu, an immersive travel experience that is only made possible through VR. It is a positive example of how VR, and technology more broadly, can be used to provide audiences with once-in-a-lifetime experiences, that they'd otherwise only read about in a magazine.
All of these experiences highlight the diversity of uses of VR that can be used to tell important stories, connect audiences with important topics, and provide users with once-in-a-lifetime experiences. VR is a positive way for journalists to challenge the ways that they communicate information to their audience and might also be a way to bridge the gap between journalism, technology, and the future. In this way, journalists may begin the process of engaging with new audiences and explore how VR can enhance journalism.