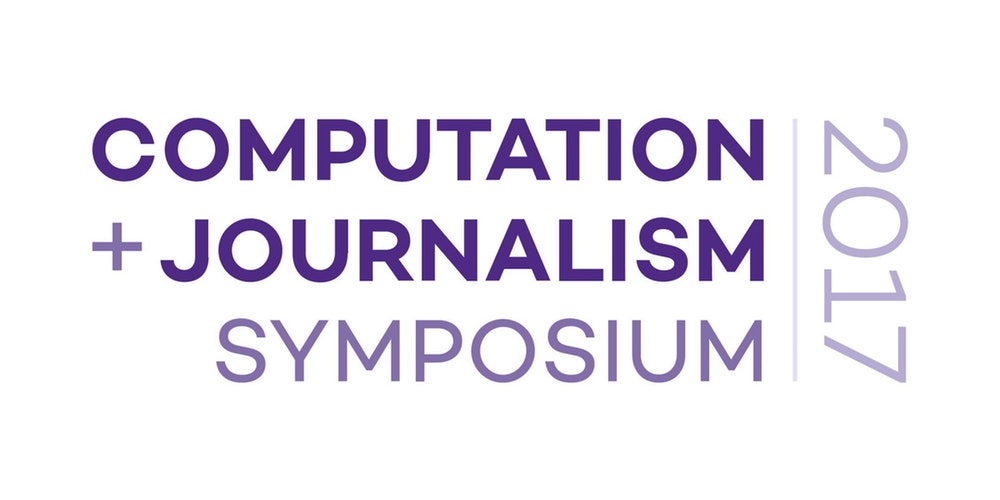 An exciting lineup of researchers, technologists and journalists will convene in October for Computation + Journalism Symposium 2017 at Northwestern University. Register now and book your hotel rooms for the event, which will take place on Friday, Oct. 13, and Saturday, Oct. 14 in Evanston, IL. Hotel room blocks near campus are filling up fast!
Speakers will include:
Ashwin Ram, who heads research and development for Amazon's Alexa artificial intelligence (AI) agent, which powers the Amazon Echo.
Brooke Binkowski, managing editor of Snopes.com, the influential fact-checking operation.
Shailesh Prakash, chief product and technology officer at The Washington Post and a symposium keynote speaker, who has led the company's digital transformation under Amazon founder Jeff Bezos.
Shawn McIntosh, another keynote speaker, deputy managing editor for the Atlanta Journal-Constitution, where she oversees investigative journalism such as the award-winning "Doctors & Sex Abuse" last year.
Bill Adair, founder of the Politifact fact-checking initiative and now the Knight Professor of the Practice of Journalism and Public Policy at Duke University.
Filippo Menczer, another keynote speaker, professor of informatics and computer science at Indiana University, where he leads a research group focused on digital misinformation.
Fact-checking and "fake news" focus
A major theme of the symposium: verification, misinformation and "fake news." Menczer, whose team at Indiana University has developed tools to combat misinformation such as Botometer and Hoaxy, will speak on the spread of misinformation in social media. Cong Yu, Google research scientist, will discuss the implementation of fact-checking at Google News. And computer science researchers will present papers on different approaches to automated fact-checking.
Panels will feature research and presentations on topics including the impact of algorithms on journalism, new tools for reporting and storytelling, and possible approaches for automated fact-checking. One panel will focus on case studies of collaboration between journalists and computer scientists.
The symposium will kick off with a reception on the evening of Thursday, Oct. 12 at the Knight Lab, Northwestern's hub for journalism-technology collaboration, which has developed a suite of digital storytelling tools such as TimelineJS, StoryMapJS, Juxtapose and Soundcite.
This is the sixth Computation+Journalism Symposium and the first to be held at Northwestern. It is being co-sponsored by the Mozilla Foundation, Google News Lab, the Northwestern University Office for Research, the Medill School of Journalism, the McCormick School of Engineering and the Knight Chair for Digital Media Strategy.  Previous C+J Symposiums have been held at Stanford University (2016), Columbia University (2015 and 2014), and Georgia Tech (2013 and 2008).
The symposium will begin on Friday morning, Oct. 13, and continue through 4pm Saturday, Oct. 14. More details can be found on the symposium website.
Researchers, students, startups and technology companies are invited to participate in a demo/poster session on Friday at the brand new Global Hub for the Kellogg School of Management. If you would like to have a space at the demo/poster session, please apply here.