Knight Lab alumni fellow, Farahnaz Mohammed, received a nice bit of news recently, when she learned that she'd made the cut for the inaugural class of Knight-VICE innovators.
Mohammed is among four young journalists selected to develop innovative ideas in journalism that'll be supported by VICE, Knight Foundation, and City University of New York.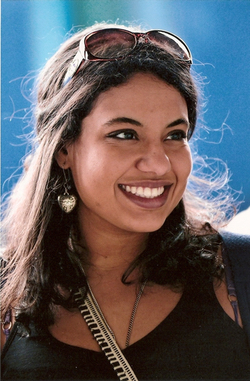 Mohammed, who graduated from Northwestern's master's in journalism program earlier this year, will continue work on a platform she began building while a fellow at Knight Lab.
"I'm excited to keep working on my project at VICE and CUNY," Mohammed said. "When I came to Knight Lab a few months ago I had an idea to connect journalists in the developing world. Joe (Germuska) helped me figure out what to do and connected me with developers and I started thinking, wire-framing and building."
By the time Mohammed ended her time at Knight Lab she had a brief for a project concept that would "help freelance journalists in the developing world connect with established legacy media in the developed world, and to other developing world journalist so they can talk about how to operate with, you know, no money, no training, and government oppression," she said.
Though credit for the project goes to Mohammed, Knight Lab is of course excited to see one of its fellows take work they began here and develop it further.
"Farah did great work while she was here and is certainly deserving of this grant," said Joe Germuska, Knight Lab's chief nerd. "It's exciting that industry innovators like VICE see the value in ideas and projects that were born at Knight Lab."
The project is close to Mohammed's heart, who began her career as a freelancer in her native Jamaica.
The fellowship is structured so that Mohammed will spend three days a week at VICE and two days at CUNY for three months.
In characteristic light-heartedness Mohammed says she's got plenty of work to do. "Honestly this project has enough steps to rival Frodo Baggins walking to Mordor," she said.